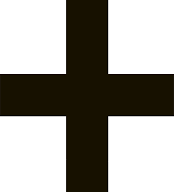 The excellent band Kent is suddenly announcing their last album with a magnificent video, showing the Swedish winter bleakness in all its glory.
There is a disturbing detail in this video which must have escaped the attention of the producers: the white flag with a black cross. I assume that it has been their intention to show a black and white representation of the Swedish flag.
But for anyone familiar with German history, this flag is something completely different: it's the banner of the Teutonic order, Ordo domus Sanctæ Mariæ Theutonicorum Hierosolymitanorum.
Anyone who is familiar with the historical, ideological and political connotations of the narrative of the Teutonic order (and their military disaster at Tannenberg in 1410) will be very confused by the use of the symbol in the video; I would say that it hurls it along a totally different trajectory.
https://www.ollebergman.se/wp-content/uploads/2016/03/imgres-copy-e1488736750869.png
192
174
olle
olle
2016-03-14 09:41:57
2017-03-05 18:59:23
A symbol rising from its East Prussian grave